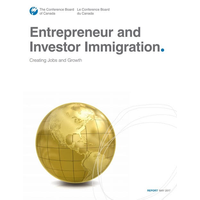 Due to its aging population and low birth rate, Canada is going to rely increasingly on immigrants for its economic development, so it must maximize immigration's economic benefits. One major way it can do so is by improving its business immigration policies. Since 1978, Canada has operated entrepreneur and investor programs to support economic development but has had limited success. Reasons include difficulties identifying the best immigrant selection criteria, low interest rates, fraud, low immigrant retention rates, the administrative burden of monitoring programs, public concerns about investor programs, and increasing global competition.

The Conference Board of Canada has recently published a report providing policy insights and suggestions to help strengthen entrepreneur and investor immigration's role in supporting job creation and economic growth in Canada. The report is an outcome of The Conference Board of Canada's Entrepreneur & Investor Immigration Summit in Toronto on December 6 and 7, 2016.

To access the full report, click here.
---